last updated 8th January 2007
Marriage Compatibility - Marriage: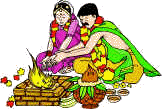 Astrology - Marriage Compatibility - For bookings


Marriage Compatibility - A Social Anthropological Study


An out-line of the method of the marriage ceremony:


Dharma of Marriage - Website with H.G. Ameyatma prabhu's books on marriage,


Kanya Daya, etc. in accordance with Srila Prabhupada teachings.


Krishna Matchmaking:


Penpals for 25-30 year olds: (not just devotees)


Vedic Marriage @ India.com


Vegetarian Penpals and resources:


Vegan and Vegetarian Friendship - Penpals etc on-line:


Mayik World - an essay by Srila Bhaktivinod Thakur 1896.


Romantic Compatibility Check - for fun:


What signs are you best with?:


Chinese Astrology Marriage Matching: (Western and Roommate astrology too)


Relationship: marriage built on compatibility (with some Dating services linked in)

This list is for vegetarian singles. I know it can be difficult to get to know someone. There may not be anyone who can help us to get to know that special someone. We've got the computer now. So signup and start letting people know you're lonely. Don't keep it a secret any longer.


Krishna Singles - the matchmakers:


Sri Vaishnava - Ahobalam mutta matrimonials:


Veggie Penpals - under 17 years of age:



Vegetarian Friendship Circular for those 17 years and over:



Vivaha Yajna is the Vedic way of marriage. Post your singles ads here.


Vivahamrita Marriage Facilitator @ the Jayapataka Swami Vyasapuja page:
other info'


Brahmacharya - Celibacy:


Kiwi Youth pages:


SeX-files - sex in Krishna consciousness:
Please notify me if there are any links that are not working properly, thank you