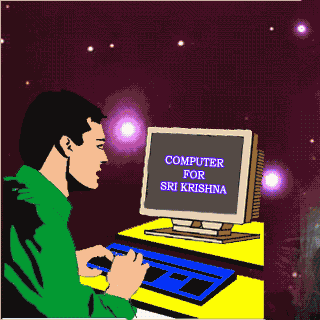 made by MAHAKRSH in Malaysia- Thanx

Some Useful Things From the InterNet:
last updated 25th November 2004

Adobe Acrobat Reader


Amazing Household Remedies HERE:



Animation Central:


A smorgasborg of Hindutva - great site:


- Crime NZ:


Compeletly FREE Software:



Download a Browser - Microsoft Internet Explorer, Netscape Communicator, Opera 5.



Dr Global - your on-line doctor 24hrs a day:




E-Cards:


E-mazing Spiritual Downloads:


Find us:



Free Clip-art of everything imaginable:


Free Indian Clip-art:


FREE Logos - ClipArt etc:



FREE JOB ALERT


To have your perfect job find YOU, click here, fill in your details, then sit back and wait:


FREE Programs 2 Download:


The BEST Deal in Web-hosting


Get Your Computer to Chant Along With you:



Guinness Book of Records is now available online:


HinduNet:



Hot Jobs in New Zealand:



Intel chip:



InterNet Hoaxes:


Krishna-Soft Devotional Computer Software


Krishna Screen-savers



Software solutions for mobile applications using Palm/mobile phones and consultancy


plus solutions for e-commerce enablement of medium size companies. Check It Out !!!


Metric - Imperial Conversion Charts:


News and Information Sites:


N. Z. Hare Krishna Resource Network -

Mailing list - Twice Monthly Newsletter.


New Zealand Hare Krishna Spiritual Resource Network - Newsletter Archive


New Zealand NetGuide:



New Zealand News:



Nokia Hare Krishna Ringtone code at the ISKCON Ahmedabad website


P.C. Protection proceedures:



Photo sharing facility - 50 Mb storage of your pics to share:



Post Cards for all occassions - Srila Prabhupada, Krishna, check it out.....


Puzzles - Free to do and printout:



Radio Krishna


Search Engines - NZ & International:



Security Updates for your PC:



Sri Krishna Screen Saver:


Sri Krsna Screen Saver Home Page:


Take our Poll - Survey:



The Art of David Benson - Dhaneshwar prabhu:


The Bhaktivedanta E-mail Services' - Private Audience Mail Hosting Organ - Formerly COM.


The On-line Webopeadia - explaining web terms and meanings:



Time Zone converter:



Truth Seeker TV - it's like a Reality TV version of the X-Files, or a punk rock version of 60 minutes.


We'll be covering UFOs, mind control, archaeology, the occult, secret societies , aliens, abductions, political intrigue, prophecy and other unexplained phenomena, to name just a few subjects. 100% independently financed and operated, we are apolitical and are not in any way beholden to corporate or special interests. This means we will not be bought, sold, commercialized, white-washed, or intimidated. Our only purpose is to dig out the facts, no matter where they are hiding.

Various InterNet Tools and Interesting Things:


Web-Monkey for Kids:



Web-images - clips, bacgrounds, buttons, bullets - FREE:


Web sightings:
A Web camera (Web cam) is a digital camera set up at a fixed location and the image it views is sent through to a site that is updated regularly. They can be used to monitor what the traffic is like in a particular area or check out weather conditions. At this site there are Web cams from all over the world. See what the weather is like at Davis Station in Antarctica or over the Remarkables in Queenstown or you check out how the New York skyline looks right now at: http://www.leonardsworlds.com/camera.html

Web - Trojans First Aid Kit v5.01 -- Win9x/ME
Trojans First Aid Kit (TFAK) is a utility program which detects and removes 737 trojans (virus-like programs) and provides several other features which help to remove and control them. This includes show/kill all open programs (specially hidden windows), show all programs which auto start, network & local trojan scan, and more. TFAK is terrific. It does a scan through your drive(s) and lets you know if you have a trojan hiding in your system. You can then use some of the other tools to locate that trojan and remove it. You can also use those other tools to see exactly what is being opened on your computer, including what programs are auto-starting with Windows. Not only can you see those programs within the TFAK window, but you can save them to a text file for a more detailed study. This applies to the sections where you can see all open programs and also all program windows. It is not hard for a program author to hide his program from you but a program like TFAK gives back control to the user. We felt that TFAK was a "must have" program for all Windows users. Get it! Access this 191kB download from: http://www.completelyFREEsoftware.com/desktop_utilities2_w95.html#TFAK32

Windows Media Player:


Wireless Video Cam:



Xtra's Site - Xtra's Search Engine for NZ and the World - Xtra Members & Resources



- New Zealand Weather - Daily:

Personalize and send electronic greetings for free! HERE
Please notify me if there are any links that are not working properly, thank you