updated 5th January 2005
---
Hare Krishna Food For Life was formerly known throughout the World as Iskcon Food Relief, especially in the Third World Countries of Africa, Asia, and South America, and also more recently in the war-torn countries of the former Soviet Union CCCP, and other parts of Europe.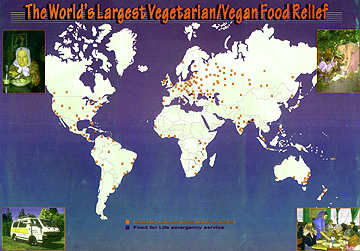 In the so-called wealthy countries like the USA, England, Australasia fed the homeless, jobless and destitute. In Sydney's Kings Cross area which is/was the home to a large street population, mainly the young and old, the centre called Mukunda's Food For Life saved many souls.

Iskcon Food Relief was personally founded by His Divine Grace Srila A.C. Bhaktivedanta Swami Prabhupada after being heart broken by the sounds of children fighting with local dogs to get the scraps of food left by the devotees that were being thrown out from the back of the foodhall area at our International Headquarters in Mayapur, West Bengal, India. Teary eyed he called for all his leading disciples and gave them the instruction that they should set up a Food Relief Program to help these hungry people. He further went on to suggest that no-one within a certain area of where a temple is need go hungry.

In some countries around the world Iskcon Food Relief and later Food For Life have been greatly assisted with donations of raw vegetables and grains, which the devotees in times of need cook up and distribute to the needy. In many countries FFL has been the life saving factor for many; such as the earth-quakes that hit Mexico some years ago; the war in Serbia; floods in India, Indonesia, civil troubles in South Africa, and many other places.

In New Zealand the Lotteries Grants Board have kindly given donations to assist with this much needed works, and many local Councils have recognised the good works being done. Former Auckland Mayor and his good lady wife Les and Colleen Miles assisted in helping and supporting several FFL centres in Auckland (Queen St., Oriental Markets), as did news presenter Paul Holmes in 1992 when his program helped the K-Rd., centre gain funds from the Lotteries Grants Board.

Around the world Hare Krishna Food For Life has become a recognised welfare mission by many of the world's great leaders, with Presidents, Prime Ministers, Mayors, Congressmen, Senators and Local and National politicians standing in ovation to Hare Krishna Food for Life.
.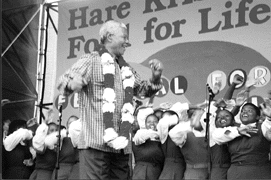 Nelson Mandela at Hare Krishna Food For Life in Durban, Rep. South Africa.
.

If you want to give a donation to Food For Life to help with their welfare work here in New Zealand, or in a country of your choice, feel free to contact Food For Life representatives at the following addresses:

---
Official International Food For Life page and background information page:
Food For Life Global - serving karma-free meals to the world !!!
http://www.ffl.org/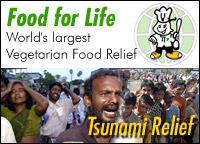 ---


Auckland FFL.
Address: 423 Queen St., Auckland
Phone: (09) 300 7585.

Christchurch FFL.
Address: 602 Colombo Street, Christchurch
Phone: (03) 3655 377

Wellington FFL.


City: ABC Shoreline, 98-104 Victoria Street, Wellington, City.

Petone: 202 Jackson Street (corner of Jackson & Nelson St) Phone: (04) 939 2233
Food for life - Gopal's Take Away:


6 Vine Street , Whangarei
Northland FFL.
National Co-ordinator Barry Wilcox
See other places in NZ (ie. Gaura's Place in Hamilton, Higher Taste Cafe in Dunedin, and numerous Vegetarian Clubs in Universities etc)

---
Food for Life in the UK:
http://www.iskcon.org.uk/ffl/
......Queensland, Australia:
http://www.iskcon.qld.edu.au/fflife.htm
FFL in Italy:
http://www.harekrsna.it/movimento_iskcon/mov_iskcon_2002_05/food_for_life.htm
Food for Life and Bhaktivedanta Ashram in India:
http://www.foodrelief.org/
Food for Life Perth Australia:
http://home.iprimus.com.au/naractl/Perth_Food_for_Life.html
Iskcon and Tirupathi Tirumala Devasthanams "Akshaya Patra" project in India:
http://www.tirumala.org/saptagiri/052002/food.htm
Vancouver, Canada:
http://vancouver.iskcon.ca/food_for_life.htm
Durban, South Africa:
http://students1.humsci.und.ac.za/993218024/FFL.htm
Argentina:
http://www.foodforlifeargentina.com/
Report to Srila Prabhupada............
http://home.earthlink.net/~jagadish/vyasa/fflg.html
Pictures of Food Distribution in India:
http://www.fov.org.uk/india/food.html
---
Donations of VEGETARIAN produce and ingredients for distribution are gratefully accepted.
.
...if you are a company CEO or Store Manager reading this and your company produces Vegetarian foods; pasta, pitta breads, cereal, fruit juices, etc., etc., other Vegetarian products; or you have a Super Market or Super-ette, or distribution outlet; then rather than throw your produce away contact Food For Life.
.
If you have a tree full of fruit that may go to waste you can donate it, or vegetables - please contact us.

THERE ARE PEOPLE HERE IN NEW ZEALAND WHO NEED YOUR HELP.
.
AS YOU CAN SEE BY THIS EXTENSIVE NETWORK, WE CAN COLLECT PRODUCE AND DIRECT IT TO THE NEEDY FROM MOST ANYWHERE.
---