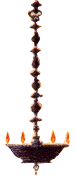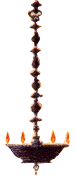 Cultural & Religious CD-Roms from India
---
We are an Agent for India Book Club, see below...

---

India Mystica: contains hundreds of pages of text with 400 pictures and illustrations.

India Festiva: 100's of pages of interactive content, full-color images, music, motion pictures

Hinduism - The Eternal Religion: provides in depth account of the principles of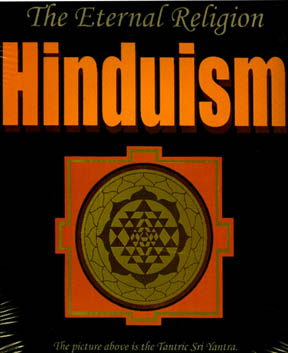 its Philosophy, worship, social and cultural background, and much much more.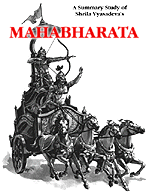 Mahabharata:
The great epic of greater India. It tells of intrigue, espinage, loyality, and devotion..... a must for understanding India.


Lord Buddha: The incarnation of Lord Vishnu who appeared to establish non-violence..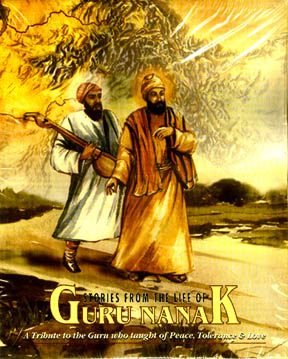 Stories From the Life of Guru Nanak:Guru Nanak was one of the great social, political and religious reformers of around five hundred years ago. These stories give one an insight into the courage, committment and devotion of the saintly Guru Nanak - the Founder of the Sikh religion.
...and many more

---
Details About Each Product
---


IndiaMystica contains hundreds of pages of text with 400 pictures and illustrations. Over 400 audios, videos and animations bring alive one of the world's oldest living faiths with the power of multimedia.
Have all your questions answered: Why are cows worshipped in India? What is the significance of Bindi?, How did Ganesh get his elephant head?, what is OM? Find answers to these and many more questions in this interactive multimedia journey...
Read, watch, hear and experience the mystique of India: Beliefs & Concepts, Customs & Ceremonies, Nature Worship, Religious Texts.

Read explanatory text researched from ancient scriptures.......
Visualise symbols of faith in high quality photographs and illustrations ......
See myths, stories and legends come alive in vibrant, narrated animations ........
Discover the sounds of hymns and songs routinely heard in homes and temples .......
Watch full motion video of ceremonies and festivals as practised for centuries .......
Hear authentic pronunciation of vernacular words ........
Look up the comprehensive Glossary for an explanation of unfamiliar terms ......

India-Mystica will surprise you, it will inform you, it will entertain you !
It will become your world.
---


India Festiva: With 100's of pages of interactive content, full-color images, exciting music and motion picture, trace the stories behind the festivals, unravel their origin, and explore why and how they are celebrated across different parts of India...

Virtually celebrating each day of the year, there are more festivals celebrated in India than anywhere else in the world. From the Hemis festival in the North, to Christmas in the South, from Durga Puja in the East, to Navroz in the West; from Bakr-Id to Raksha Bandhan, Gurpurab to Losar - you'll find them all in indiaFestiva .... a multimedia CD-ROM that brings you face to face with the fascinating festivals of all major religions in India : Buddhist, Christian, Hindu, Jain, Jew, Parsi, Muslim, Sikh.

With hundreds of pages of interactive content, full-colour images, and hours of exciting, informative sounds and motion picture, this is a trip the whole family will enjoy!

Journey back in time to discover when and why these festivals originated, and the authentic ways of their celebration.

Watch as the past comes to life in video clips that both entertain and inform.

Get instant explanation of glossary words.

Locate facts and information using powerful tools like Search and Index.

Explore the richness of festivals from this land of celebrations, brought alive with brilliant visuals and sounds of music.

---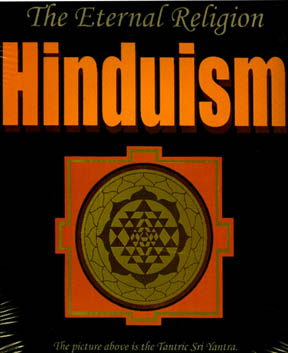 The Eternal Religion - Hinduism: This is the first interactive CD-ROM that covers the myriad aspects of Hinduism. It provides in depth account of the principles of Hinduism, Worship Practices, Cultural and Social Systems, the magnificent temples that have stood the test of time, the quintessence of Hindu philosophy and lot more... US Price: $37.50 (please send NZ$$$ equivelent - plus shipping and handling, S/H is $10 for the first book/CD, and $3 for each additional book).

---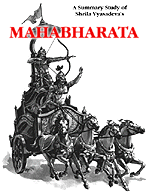 Mahabharata: This story now comes to life before you through beautiful hand-painted illustrations, animated to emphasize the dramatic moments. Narration adds to the "story-time" effect. An original music score enhances the scenes, making each episode so real you cannot help but be moved.

The Mahabharata is a timeless saga. It is woven around two branches of a royal family divided on the issue of inheritance. It features heroes, villains, kings and women of beauty, and their epic stories of love and hatred, joy and sorrow, pride and endurance. The Mahabharata is the story of human nature, and indeed, of life itself.

This story now comes to life before you through beautiful hand-painted illustrations, animated to emphasize the dramatic moments. Narration adds to the "story-time" effect. An original music score enhances the scenes, making each episode so real you cannot help but be moved.

As you are swept along by the tale, you realise in wonder that each character is ageless, recognisable in every age and civilisation, and very very plausible. No one is all good, nor entirely evil. Blind Dhritarashtra, brave Karna, the honourable Yudhishthira, Arjuna, Draupadi - each of them are human, real, with moments of both greatness and shame in their lives. They are so real, and so ageless, you begin to identify with them in their moments of trial or tragedy, shame or victory. All you need to do is sit back - the music, narration and visuals transport you into another world, and you float away on a journey;


Draupadi's Surrender to Krishna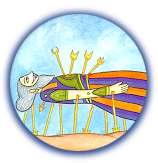 The Passing Away of Grandfather Bhisma
...and much much more!
---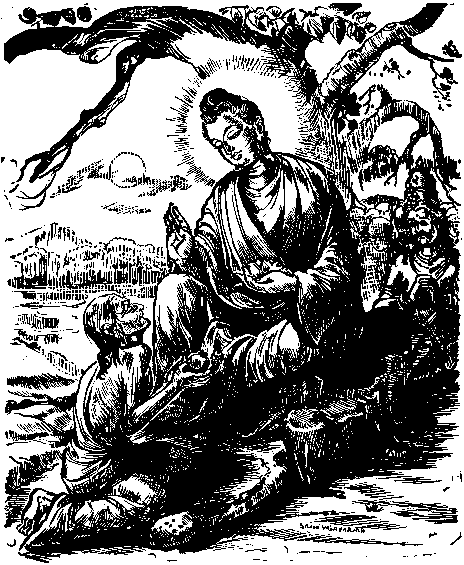 The Life of Lord Buddha:
At the time of the Buddha, wicked minded Brahmins (so called Vedic priests) who were devoid of spiritual knowledge were engaging in wholesale animal slaughter in the name of Vedic rituals. In previous ages, highly qualified priests and kings used to sometimes perform ritualistic animal sacrifices that promoted the souls of the animals to the human form of life. But since in the Age of Kali there are no such qualified performers of sacrifice, these rituals are therefore forbidden by the scriptures. Buddha appeared to enforce this prohibition by preaching the dharma of non violence. For this reason, the Buddha is glorified in the Vedic scriptures: buddhas tu pashanda gana pramadat "May Lord Buddhadeva protect me from activities opposed to Vedic principles and from the madness that causes one to forget true Vedic knowledge and ritualistic action." (Srimad Bhagavatam 6.8.19)
There is an ancient poem, reputed to be the only text ever written by the Buddha himself:
"Creatures without feet have my love. And like wise those who have two feet; and those, too, who have many feet. Let creatures all, all things that live, all beings of whatever kind, see nothing that will bode them ill. May no evil come to them."
Even as a child, Gautama Buddha rescued wounded animals from cruel hunters. And later when preaching the dharma, he made total renunciation of meat eating a fundamental part of his prescription for humanity.
In the Mahaparinirvana sutra, the Buddha declares, "The eating of meat extinguishes the seed of maha karuna (great compassion)." In the Lankavatara sutra he says, "For the sake of love of purity, the enlightened Buddhist should refrain from eating flesh, which is born from blood and semen. For fear of causing terror to living beings, let the enlightened Buddhist, who is disciplining himself to attain compassion, refrain from eating meat." He is cited in the Surangama sutra as saying, "The reason for meditating and seeking enlightenment is to escape from the suffering of life. But in seeking to escape from suffering ourselves, why should we inflict it upon others? Unless you can so control your minds that even the thought of brutal unkindness and killing is abhorrent, you will never be able to escape from the bondage of mundane life."
---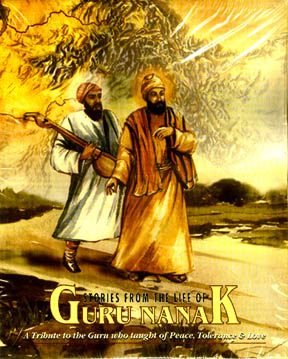 Stories From the Life of Guru Nanak:
US Price: $30.00 (please send NZ$$$$ equivelent)(plus shipping and handling, S/H is $10 for the first book/CD, and $3 for each additional book).

One of the Great teachers of Mankind, Guru Nanak's teachings are the foundation of the
Sikh religion. His message of equality, brotherhood and love are just as relevant to our
lives today. Travel back in time and revive the excitement of Guru Nanak's life. Listen to
his lyrical hymns and words of wisdom that guided people for centuries.

This CD-ROM includes the Janamsakhis - biographies of Guru Nanak. Nanak's journeys
are traditionally called Udasis. Learn of some of Guru Nanak's extraordinary experiences,
through his Udasis.

Some of the stories include:

1. Duni Chand: A merchant proud of his wealth learns the true values of good living. 2.
Sajjan Thug: The Guru transforms the life of a cruel robber through his wisdom and love.
3. Wali Qandhari: An angry religious teacher finds his rage melt with the Guru's
irresistible offer of love. 4. Guru Nanak at Haridwar: At the pilgrimage the Guru shows
people the errors of superstition and blind faith. 5. Guru Nanak at Multan: The Sufis of
Multan send a clever message to the Guru and receive an unexpected reply. 6. Guru
Nanak at Sialkot: A wise man's arrogance encounters the Guru's Message of Universal
love. 7. Guru Nanak at Mecca: Traveling to the holy shrine the Guru shares his spiritual
wisdom with people.

Begin a fascinating journey into the life of Guru Nanak, his adventurous crusade against
intolerance and inequality and know more about his teachings.

---
"Fables from India: Panchatantra" (CD-ROM)
Fables from India is a highly interactive CD-ROM that presents five carefully selected stories from the world's oldest collection of fables -- the Panchatantra. Legend has it that these stories, dating back to around 200 BC, were devised to teach values to an ancient king's unruly sons. Those values have not changed over time and are just as relevant to the children of today.

---
"The Ramayana" (CD-ROM)
Journey with the wise old monkey, Hanuman, while he recounts the great Indian epic,
The Ramayana. This fascinating tale will carry you breathlessly through palaces and forests filled with animals, demons, good, and evil. Click-on action, vocabulary enrichment, and historical insights promise hours of fun and learning.
---
"Jungle Whispers: Animated Stories" (CD-ROM)
Jungle Whispers contains three stories uniquely adapted from age-old Indian folklore, history, and the classic, Panchatantra. The CD-ROM can be enjoyed in two versions:
Animated Version: accompanied with excellent background music, special sound effects, animation, and games intertwined within the story. There is a "Paint window" for children to create their own storyboard and educational puzzles at the end of each story.
Comic Version: Here the child enjoys the experience of reading a comic and listening to carefully chosen, themed background music together. In addition, children can record their own voice and narrate the story to friends or parents.

---

"Gujarati Master" (3 CD-ROM Pack)

The Gujarati Master has been devised as a language and culture package for children of Gujarati origin living under foreign skies. Through a host of animated characters, this multimedia expedition offers a pleasure trip into the heart of the language.

The Gujarati Master will help you learn the rudiments of Gujarati by themselves. It will educate you about the Gujarati language and charm you with animated Gujarati Rhymes. It will challenge you with tests and puzzles. And it will kindle in you an affinity for your great cultural heritage.

-------------------------------------------------------------------------------
LEARN GUJARATI THE FUN WAY: GUJARATI MASTER (CD-ROM)
-------------------------------------------------------------------------------

Gujarati master ( 3 Pack CD-Rom) has vast range of topics divided into three major sections.These parts will help you learn the Gujarati language thoroughly.

---
System Requirements (PC)
Multimedia PC with 486 or higher processor (Pentium recommended) 8 MB RAM (16 MB
recommended) CD-ROM drive Quick time for Windows Audio Card Headphones or
speakers SVGA 256-color display Microsoft Windows 3.1 (or later) with 640 X 480
256-color display
System Requirements (MACINTOSH) 68040 or Later Processor 8 MB RAM System 7 or
Higher Quicktime 2.0 or Higher 640 x 480, 8 or 16 bit display 2x o above CD-ROM drive
Availability: This Item is currently backordered. It may take upto 2 to 3 weeks to
get it shipped. We will inform you within 1 week if we are having difficulty
obtaining this item.
---
(shipping and handling, S/H is $10 for the first book/CD, and $3 for each additional book).
---
---